With the exception of mask rules and the vaccination passport, most measures are to be lifted by March 14.
Publishing date:
Feb 08, 2022  •  12 hours ago  •  5 minute read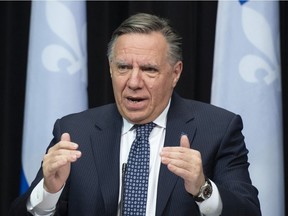 QUEBEC — Premier François Legault denied on Tuesday that pressure from the street pushed him to set out a detailed calendar for easing COVID-19 pandemic measures, but he conceded the population is fed up with living under them.
Advertisement
This advertisement has not loaded yet, but your article continues below.
And he said if protesters want to take credit for his announcement that Quebec will drop nearly all the measures by March 14, that is fine by him — especially if it means they will not return to the provincial capital Feb. 19-20 as they are threatening.
"The protest did not tip the balance," Legault said at a pandemic news conference at the legislature. "What we wanted was a certain assurance from public health that the risk (of easing measures) was calculated, that the risk was minimal.
"Now, if some people want to take credit and agree to not come back in two weeks, I am not opposed to that idea."
Rather than talk about the protesters, Legault was adjusting his message to the people, opening his remarks saying he knows more and more Quebecers find there are too many pandemic restrictions. If he could have eased up on the rules sooner he would have, he said.
Advertisement
This advertisement has not loaded yet, but your article continues below.
"I'm fed up," he said. "We're all fed up. I can understand. The reason we resisted (to ease measures) until today is because there was too much risk. We wanted to be sure that we will be able to take care of each patient."
Noting the number of Quebecers in hospital has dropped from 3,400 three weeks ago to 2,400 today and the number of absent hospital workers is way down, Legault said Quebec now has the leeway it needs to treat patients and give Quebecers back some freedoms.
But it will be a different world.
"We will have to learn to live with the virus," he said. "COVID is here to stay. A sixth wave is not impossible."
The trade-off is that Quebecers will have to learn to protect themselves by "minimizing their risks," and going to get booster vaccine shots as they become necessary. The situation is the same all over the planet, Legault added.
Advertisement
This advertisement has not loaded yet, but your article continues below.
Legault outlined the new pandemic calendar at the same time as pressure on political leaders to back off on pandemic measures grows all over Canada.
The mood was captured in a new Léger poll published Tuesday. It revealed that while two-thirds of Canadian disapprove of the anti-vaccine mandate protest in Ottawa, 44 per cent sympathize with the truckers, possibly because they too have grown weary of life under so many rules.
Some have taken their beefs to the street. Over the weekend, Quebec City was visited by a truckers' convoy that disrupted life in the city and its winter Carnaval. Downtown Ottawa remains locked down by the "Freedom Convoy."
Operators of Quebec hotels, bars and convention centres have been cranking up pressure as well. Even NHL commissioner Gary Bettman has said the league could move June's draft from Montreal if restrictions are still in place.
Advertisement
This advertisement has not loaded yet, but your article continues below.
In Ottawa, Liberal MP Joël Lightbound, who represents the Quebec City riding of Louis-Hébert, broke ranks with Prime Minister Justin Trudeau on Tuesday, saying government pandemic policies have needlessly divided and stigmatized citizens.
Legault, however, sidestepped questions about whether he felt Lightbound was targeting all political leaders in his remarks.
"Ask him," Legault said. "I don't know who he is targeting. I understand that these measures can divide Quebecers, but we had no choice but to protect our hospital situation."
Quebec was not the only province stepping down measures Tuesday. Within hours of each other, Saskatchewan, P.E.I and Alberta also announced an imminent end to pandemic rules.
Advertisement
This advertisement has not loaded yet, but your article continues below.
Besides easing a number of restrictions, Legault also indicated the government will review the rules about masks after March 14.
The vaccine passport, however, is here to stay, added Health Minister Christian Dubé.
"I'm just saying that the best tools to use to make sure we go back to normal life, apart from confinement, would be the mask and passport," Dubé said. "That's very clear."
As for the health emergency law in force now that gives Quebec sweeping powers, Legault said it will be dropped after the National Assembly adopts new legislation specifying which measures are to be maintained (such as the vaccination passport).
The bill will be tabled in March and adopted before the spring recess, Legault said.
Legault defended the cautious approach of the last few weeks, which even included a curfew around the Christmas period.
Advertisement
This advertisement has not loaded yet, but your article continues below.
"Essentially we had a health network that was fragile even before the pandemic," Legault said. "It's all well and good to be against restrictions, but people need to understand we had a choice between putting in the restrictions or not being able to treat Quebecers."
Quebec's reopening plan
Feb. 12
No more legal limit on private gathering size, but public health recommends a maximum of 10 people or three households.
Restaurants can have 10 people or three households per table.
Feb. 14
Sports games — hockey, in particular — can resume. Gyms can reopen at 50 per cent capacity.
Up to 5,000 people can attend outdoor events.
Feb. 21
No capacity limit on stores.
Places of worship, concert venues and arenas can have 50 per cent of their normal capacity (up to 500 people).
Private gatherings in rented halls allow up to 50 people.
Advertisement
This advertisement has not loaded yet, but your article continues below.
Feb. 28
Bars and casinos can reopen at 50 per cent capacity, last call at midnight and a 1 a.m. closing.
Teleworking is no longer be required, though still recommended.
Sports tournaments can resume, while places of worship, and venues with 10,000 seats or less can go to full capacity.
March 14
Remaining capacity limits for places using vaccine passports — restaurants, bars, gyms and all arenas — are lifted, and opening hours can return to normal.
Houses of worship can allow up to 50 people without vaccine passports and private rented halls up to 20.
Seniors' homes allow more visitors (four at a time in seniors' homes, two in CHSLDs).
All our coronavirus-related news can be found at montrealgazette.com/tag/coronavirus.
For information on vaccines in Quebec, tap here.
Sign up for our email newsletter dedicated to local COVID-19 coverage at montrealgazette.com/coronavirusnews.
Help support our local journalism by subscribing to the Montreal Gazette here.
Sign up to receive daily headline news from the Montreal Gazette, a division of Postmedia Network Inc.
By clicking on the sign up button you consent to receive the above newsletter from Postmedia Network Inc. You may unsubscribe any time by clicking on the unsubscribe link at the bottom of our emails. Postmedia Network Inc. | 365 Bloor Street East, Toronto, Ontario, M4W 3L4 | 416-383-2300