Publishing date:
Feb 10, 2022  •  12 hours ago  •  4 minute read  •  19 Comments
The QR code reader app businesses used for the province's Restrictions Exemption Program (REP) is no longer available to download from the app store.
Advertisement
This advertisement has not loaded yet, but your article continues below.
Premier Jason Kenney announced the REP would be cancelled midnight Tuesday during Tuesday's COVID-19 update, however he said businesses would still have the ability to implement their own vaccine passport program.
During Thursday's update, Health Minister Jason Copping said the province's QR code reader app is no longer available to download.
However, Copping said businesses who already have the app downloaded on a device will still be able to use it for "quite some time" and businesses can ask to see a printed proof of vaccination as well.
Alberta hospitals saw a decline in COVID-19 hospitalizations and the province reported 22 deaths on Thursday, amid a week where some public health measures, including the REP, were lifted.
Advertisement
This advertisement has not loaded yet, but your article continues below.
There are 1,586 Albertans in hospital with COVID-19, a decrease of 29 from the previous day. Of those in hospital, 126 are in ICU, a drop of nine patients from the previous day.
Alberta Health Services (AHS) announced on Thursday that the Kaye Edmonton Clinic Pandemic Response Unit will be deactivated on Sunday. The pandemic response unit allowed AHS to expand its capacity within the Edmonton Zone on Jan. 27.
"The number of hospitalized non-ICU patients across the province has slowed in recent days, allowing for the PRU's deactivation. A total of 30 patients were admitted to the unit since it opened," AHS said on Twitter.
AHS said staff have started the transfer process for patients with the majority of patients set to be discharged home or to other placements in the zone.
Advertisement
This advertisement has not loaded yet, but your article continues below.
Active cases continued to trend downward on Thursday, with 25,339 active cases reported in the province, a decrease of 1,557 cases. The Edmonton Zone, which consists of the city of Edmonton and surrounding areas, is home to 7,298 of those active cases.
Alberta reported 1,363 new cases of the virus on Thursday and a test positivity rate of about 27 per cent.
Albertans oppose COVID-19 mandates most, survey says
A Leger poll released earlier this week indicates Albertans are most opposed to mandates, with 24 per cent saying they were angry about the current state of the pandemic.
The survey included online responses from 1,546 Canadians collected between Feb. 4 and Feb. 6. The poll could not be assigned a margin of error because internet-based polls are not considered random samples.
This advertisement has not loaded yet, but your article continues below.
Article content
The poll suggests nearly 30 per cent of Canadians believe it is the right time to lift restrictions and "learn to live" with the virus, while more than 40 per cent are in favour of carefully easing public health measures.
"We do need to adopt a more sustainable approach to COVID-19, but that doesn't mean throwing caution to the wind," said Roman Pabayo, an epidemiologist with the University of Alberta.
"I still think we need to be cautious as we move forward and make decisions on removing restrictions in a scientifically informed, public health-informed way."
Nearly half of the respondents, 48 per cent, said they were afraid of contracting the virus, 14 per cent said they were "very afraid," 34 per cent said they were "somewhat afraid" and 42 per cent said they were not afraid of a COVID-19 infection.
This advertisement has not loaded yet, but your article continues below.
Article content
Rapid tests available at pharmacies, booster shot uptake lagging
On Thursday, Copping said more than 2.5 million rapid tests were sent to Alberta pharmacies and AHS locations across the province last week.
Last Friday, Copping said the government invited more pharmacies to join the rapid test program, resulting in an additional 633 pharmacies, a total of 1,453, across the province signing up and ordering a batch of rapid tests. He said starting this week, another two million tests will be shipped out to pharmacies and all pharmacies should receive their stock by next week.
"With the expansion, we're switching to distributing tests only through pharmacies," said Copping. "AHS sites will no longer receive new shipments. That said, tests were sent out to AHS locations last week, so some AHS sites may still have the test available."
This advertisement has not loaded yet, but your article continues below.
Article content
Copping said the province will continue to ship rapid tests to pharmacies throughout February, and then it will evaluate the program to determine how many more tests are needed and for how much longer.

Booster shot uptake has slowed down and as of Thursday, Copping said 40 per cent of fully vaccinated Albertans aged 18 and older have received a third dose of a COVID-19 vaccine.
"This is good progress, but we need more eligible Albertans to get this additional protection," he said. "Unfortunately we have seen a slowdown in booster doses over the last week or so. We do have an ample supply of both Moderna and Pfizer supply doses available."
Dr. Deena Hinshaw, Alberta's chief medical officer of health, announced an expansion for COVID-19 vaccinations on Thursday. Children aged 12 to 17 with underlying health conditions, or are First Nation, Métis or inuit, can book their third dose starting Feb. 15. She added children aged 12 to 17 with an immunocompromising condition will be eligible to book a fourth dose next week, along with five to 11 year olds with specific immunocompromised conditions.
This advertisement has not loaded yet, but your article continues below.
Article content
Hinshaw also announced that as of Feb. 16, fully immunized continuing care staff will be able to resume working in multiple facilities. She said the move is intended to help facilities avoid staffing challenges brought on by limiting workers to a single long-term care or designated supportive living facility, a rule that was implemented in April 2020.
About 80 per cent of residents in long-term care and designated supportive living facilities have received three doses of a COVID-19 vaccine, Hinshaw said.
— With files from the Canadian Press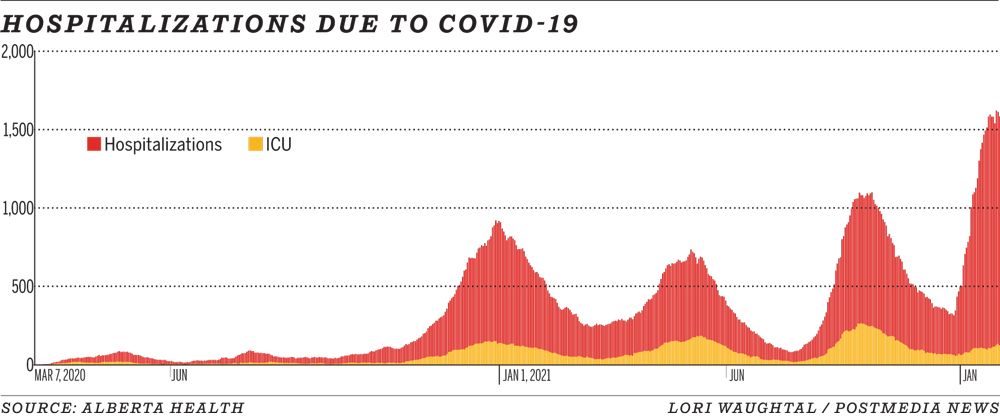 Sign up to receive daily headline news from the Edmonton Journal, a division of Postmedia Network Inc.
By clicking on the sign up button you consent to receive the above newsletter from Postmedia Network Inc. You may unsubscribe any time by clicking on the unsubscribe link at the bottom of our emails. Postmedia Network Inc. | 365 Bloor Street East, Toronto, Ontario, M4W 3L4 | 416-383-2300